1 Million Cups Springfield Highlights the Innovation Lab of the MSU Libraries
1 Million Cups Springfield Highlights the Innovation Lab of the MSU Libraries
On Wednesday, October 14, 2020, Tyler Drenon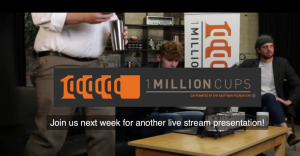 was the featured guest on the weekly one-hour Facebook event organized and hosted by the 1 Million Cups Springfield group. Nick Nelson from the Springfield Art Museum served as the conversation facilitator. 
According to the 1 Million Cups website: "Based on the notion that entrepreneurs discover solutions and engage with their communities over a million cups of coffee, the Ewing Marion Kauffman Foundation developed 1 Million Cups in 2012 — a free program designed to educate, engage and inspire entrepreneurs around the country. Through the power of volunteers, 1 Million Cups has grown to more than 160 communities.

As a program of the Kauffman Foundation, 1 Million Cups works with entrepreneurs, empowering them with the tools and resources to break down barriers that stand in the way of starting and growing their businesses. Mr. Kauffman believed it was a fundamental right for anyone who had a big idea to be able to bring it to life—and we're here to fulfill that mission."
The MSU Library Innovation Lab is a collaborative idea studio with a focus on emerging technologies like 3D printing, robotics, virtual and augmented reality. Through the Lab, MSU aims to foster innovation & research ties between academia & industry. During this online event, Drenon covered the mission of the space, touched on some of the projects and partnerships the space has created, and answered questions via livestream.