Welcome Table a Big Success
Welcome Table a Big Success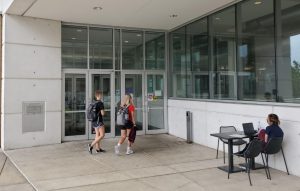 A new academic year brings with it the hustle and bustle of anxious students looking for classrooms, places to print their syllabi, and the perfect spot to sip coffee and catch up on the day's events. With that in mind, the Public Services team of the MSU Libraries partnered with colleagues throughout the library to staff a table in the lobby to welcome faculty, staff, and students back to campus.
The welcome table ran Monday through Thursday, 8 a.m. to noon during the first week of classes to answer questions, hand out face masks, and give away library SWAG. Most of the questions were focused on resources and services in the library and how to find them once in the building.
In total, staff at the table answered: 48 Library informational; 12 Campus informational, and 97 Library directional questions over the four-day period for a total of 157 questions, an average of 9.8 questions an hour. The library considers the service a success and plans to continue for future semesters.
A special thank you to our welcome table staff: Tylor Phillippe, Shirley Moentnish, Sue Reichling, Lindsey Taggart, Rachel Besara, and Tom Peters.