Special Collections Supports Student Research
Special Collections Supports Student Research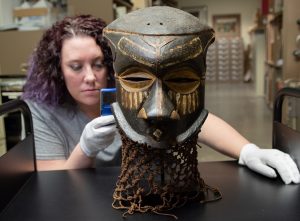 At the MSU Libraries we strive to help the university community, sometimes in unusual ways. One of those ways takes place in Special Collections and Archives. For the last fifteen years, Special Collections has worked with Dr. Billie Follensbee (professor, Art and Design) to improve her students' research skills through hands-on study of art and artifacts. 
Dr. Follensbee found she could borrow objects from individuals or other institutions, as long as they are secure. Special Collections supplies the storage and study space needed. While cancelled for Fall 2020, Special Collections staff also creates an exhibit of the objects and research of the top students. "This is not typical in archives," says Anne Baker, head of Special Collections to visitors puzzling over the African masks or Meso-American pottery. "But it gives students the opportunity to work with artifacts and have a public showing of their work. Great resume material!"
Learn more about this and other research opportunities Dr. Follensbee offers her students in this recent article. Professors at Missouri State University are encouraged to involve undergraduates in research, and Dr. Billie Follensbee embraces this goal with a passion. At the MSU Libraries, we are pleased we can play a part in making those research opportunities possible.
If there are any questions, please reach out to Anne Baker at 417.836.4299 or AnneBaker@missouristate.edu.