Pandemic Response Updates
Pandemic Response Updates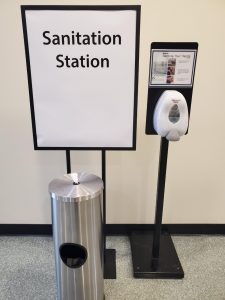 Missouri State University is now in the third week of the fall semester. The Core Executive Team managing the university's response to COVID-19 meets weekly — more often, if need be — to get updates on the effects of the pandemic on the university community, the immediate vicinity to campus, and the entire county and state. Dean Peters is a member of this team. 
The leadership team of the MSU Libraries meets weekly, too, to discuss recent developments and to hone our preparedness for and response to the effects of this pandemic. Here are some updates on what we are doing: 
Sanitation stations have been set up at key high-traffic areas throughout the Duane G. Meyer Library building. The custodians really have elevated their efforts, too, to ensure that the building is clean and sanitized. We appreciate their excellent efforts. 


Late last week we decided to suspend the campus delivery service until further notice. During these times, having a student-employee visit multiple departments and locations across campus to deliver and pick up books and other materials is not prudent and safe. MSU Libraries rolled out the Campus Delivery Service two years ago at the start of the Fall 2018 Semester.  


We have increased our efforts, through signage, social media, and in other ways, to encourage more self-service activities by library users, whenever feasible. For example, self-service check-out of most library materials, such as books, can be done via a smartphone or at a self-service kiosk located at the top of the interior ramp in Duane G. Meyer Library. It's quick and easy. If you use your own smartphone, no one else need touch your phone and library materials. 


We encourage library patrons to use online content and services. For example, our text and chat reference service is staffed Monday through Thursday from 9:00 to 9:00, and Friday from 9:00 to 5:00. Users can access these online services via their smartphone, laptop, tablet, Chromebook, etc. 



Short-Term Storage Lockers are coming: They should arrive by mid-September, and they will be located in the lobby. They will be used for libraries materials pickup and the return of technological devices, such as laptops and mobile hotspots. Patrons will have single-use access codes to specific lockers, so that materials can flow easily without multiple people handling them in a short time frame. Because at present the lobby of Duane G. Meyer is accessible 24/7 for anyone with a BearPass card, this should be very convenient and reasonably safe for library users.