Martin Family Foundation Makes Substantial Gift
Martin Family Foundation Makes Substantial Gift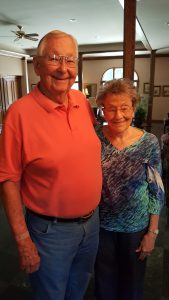 The Martin Family Foundation, founded by Don and Ruth Martin, has made another substantial gift to the Missouri State University Libraries. Their most-recent gift will be used to advance the years-long Ozark Jubilee Digitization Project, which now is much closer to completion, thanks to their continuing generosity and support. 
A few years ago, another major gift from Don and Ruth enabled the MSU Libraries to furnish the new "Living Room" area on the Main Level of Duane G. Meyer Library, which quickly became a favorite study spot for students and other library users. Also, pre-COVID, the Living Room has proven to be an excellent place for special events, such as the annual gala held by the Missouri Writers Hall of Fame in the Fall of 2019. 
Don and Ruth Martin always have been firm believers in student success as they work to become educated adults, and in preserving the history and culture of the Ozarks. Proof of their commitment in action are these significant gifts to the MSU Libraries. Thank you very much, Don and Ruth!