Dog Training From Springfield to Boston
Dog Training From Springfield to Boston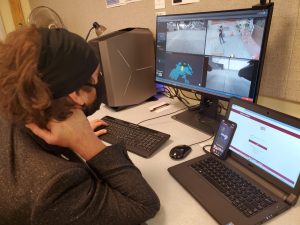 On Thursday, September 17, 2020, Tyler Drenon from the Missouri State University Libraries in Springfield, Missouri, operated Spot the robotic dog from its really remote location in Boston, Massachusetts. 
Spot is a creation of Boston Dynamics. According to their website: "Boston Dynamics is a world leader in mobile robots, tackling some of the toughest robotics challenges. We combine the principles of dynamic control and balance with sophisticated mechanical designs, cutting-edge electronics, and next-generation software for high-performance robots equipped with perception, navigation, and intelligence. Boston Dynamics has an extraordinary and fast-growing technical team of engineers and scientists who seamlessly combine advanced analytical thinking with bold engineering and boots-in-the-mud practicality."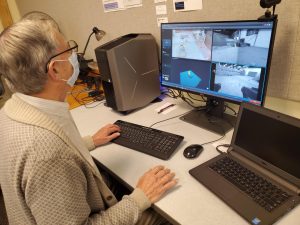 Tyler was adept at operating Spot the robotic dog. When the team in Boston challenged Tyler to try to tip Spot over, a typical performance challenge for robots in real-world situations, Tyler tipped Spot over in record short time. 
Even the MSU Provost, Dr. Frank Einhellig, took the controls and put Spot through some paces. Robotics is one area of exploration, innovation, and cutting edge practical research being conducted by the Libraries Innovation Lab, located on the Lower Level of Duane G. Meyer Library. Tyler Drenon has been working with several groups near and far in the growing field of robotics, exploring ways that robotics can be used here at MSU, as well as one aspect of regional economic and workforce development efforts.