Boom! Traveling Exhibit at Meyer Library
Boom! Traveling Exhibit at Meyer Library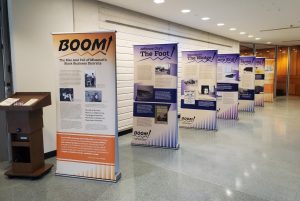 From now through December 11, 2020, the Missouri State University Libraries is hosting a traveling exhibit about the history of Black-owned businesses in Missouri. The exhibit was designed and created by the Missouri State Museum in Jefferson City.
"BOOM! The Rise & Fall of Black Business Districts" tells the story of five Black business districts throughout the state. Due to segregation and racism these business centers flourished, serving as the cornerstone of Black life, culture, and survival from the late 19th to the mid-20th centuries. However, integration, civil rights legislation, and urban renewal caused them to crumble and disappear.
The five communities featured are:
The Foot in Jefferson City
The Wedge in Hannibal
Sharp End in Columbia
Vine Street in Kansas City
The Ville in St. Louis
Dr. Lyle Foster, Assistant Professor of Sociology and Anthropology at Missouri State University, led the efforts to bring this exhibit to the MSU Springfield Campus. 
This exhibit, located on the First (main) Level of Duane G. Meyer Library, across from the elevators, is free and open to the public. It is available for viewing whenever the library is open. 
The Missouri State Museum, part of the Missouri state park system, is located on the first floor of the Missouri State Capitol. For more information on state parks and historic sites, visit mostateparks.com. Missouri State Parks is a division of the Missouri Department of Natural Resources.