FY21 Action Plans for MSU and the MSU Libraries
FY21 Action Plans for MSU and the MSU Libraries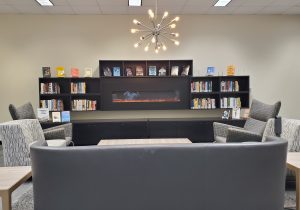 Last week the Board of Governors finalized the FY21 Action Plan for Missouri State University. The plan organizes its action steps around several Focus Areas, including:
Crisis Management
Planning
Academic and Career Initiatives
Diversity, Equity, and Inclusion
Student Success and the Student Experience
Economic Development
Globalization
Infrastructure
Funding
Athletics
West Plains Campus
The action plans and long-range goals of the MSU Libraries align well with the current MSU Action Plan. Here are just a few examples:
MSU

: Reevaluate the university's mission, vision, and value statements.


MSU Libraries

: Review and revise, if necessary, the Mission Statement of the MSU Libraries. 

MSU

:

Enhance

and expand diversity, equity and inclusion

training and educational opportunities for students, employees, and the external community

.




MSU Libraries

:

We commit to plan and take action to become a more welcoming, inclusive, culturally conscious academic library.

MSU

:

P

romote the university to dual credit students

and continue

the dual credit scholarship program for students on free and reduced lunch

.


MSU Libraries

:

Develop a plan with the

MSU Dual Credit Office

to expand library online offerings, synchronous and asynchronous (Lead Group: Information Literacy Team)

MSU

:

Evaluate opportunities to

redeploy academic assets in light of enrollment trends and reductions in available faculty.




MSU Libraries

: 

For many facets of the operation of a medium-sized academic library at a public university in the Midwest, the MSU Libraries will strive to use data to inform our decision-making and assessment activities in order to redeploy our resources and assets.

MSU

:

Expand use of text messaging for

student support,

advising, financial aid, and other communications.




MSU Libraries

: Principle of Digital First: M

ake decisions and implement and improve both content and services based on the foundational idea that the digital version will be the principal version, ideally available anywhere, anytime to the learning communities we serve.