Bears Rule at Q2 FOLIO Bug Fest
Bears Rule at Q2 FOLIO Bug Fest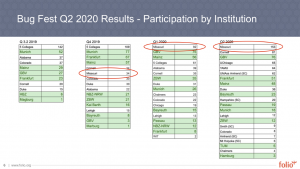 Before each quarterly release of FOLIO, the growing global group of FOLIO users conducts a community testing program, known as "Bug Fest". The Bug Fest for the Q2 2020 release of FOLIO, a.k.a Goldenrod, was held from approximately June 22-26, 2020, and featured 946 test cases, covering nearly every corner of FOLIO functionality.
A team of nine (out of 60 total community testers) faculty and staff from Missouri State Libraries led the way among participating libraries, completing 153 test cases. The next institution, Cornell University, completed 81.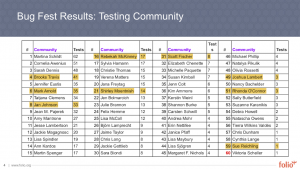 Bug Fest is a critical component of the FOLIO development process, and provides a great opportunity to learn more about both existing and forthcoming functionality. Since joining the FOLIO community in Late 2019, MSU Libraries has rapidly increased its level of participation in this community testing process, quickly becoming a leader.
A hearty thanks to all the MSU Bears, both in Springfield and West Plains, who participated in Bug Fest.