Baumlin and Besara to Give Talk Highlighting BearWorks IR at Showcase
Baumlin and Besara to Give Talk Highlighting BearWorks IR at Showcase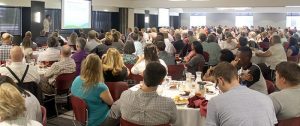 A proposal from Dr. Jim Baumlin from the English Department and Associate Dean of Libraries Rachel Besara has been accepted to present a session on
An Open-Access Platform for Student-Faculty Collaboration 
at the 35th annual Showcase of Teaching and Learning on August 12, 2020.  
The session will highlight how
BearWorks
, MSU's Institutional Repository, can be used as a platform to facilitate production and dissemination of scholarly collaborations between students and faculty.  Materials from the
Ozarks Studies Institute
will be used to illustrate the topic.  
Congratulations
 Jim and Rachel for being accepted to present at the first ever virtual Showcase!