Chat Reference Service Breaks Record
Chat Reference Service Breaks Record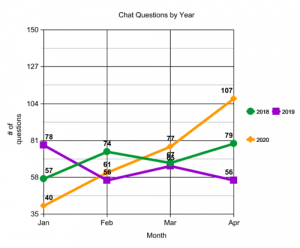 For several years now, the Missouri State University Libraries has offered a chat reference service, enabling users to ask questions and receive prompt responses right online, while they seek, use, and create information.
When the physical libraries on campus closed abruptly in March in response to the COVID-19 pandemic, the MSU Libraries expanded its hours of chat reference service and made it even easier to find and use on the Libraries' website. 
In just one month, from mid-March to mid-April, usage of the chat reference service is setting records. The orange line shows the rapid growth in usage of the service in 2020. Compared to 2018 (green) and 2019 (purple), usage in 2020 started slow in January, caught up with the two previous years in February, and took the lead in March. Although we are only halfway through April, usage in 2020 has far outpaced the entire months of April in 2018 and 2019.
If you'd like to try our chat reference service, visit Libraries.MissouriState.edu/Ask-A-Librarian.htm