COVID-19 Updates: Services
COVID-19 Updates: Services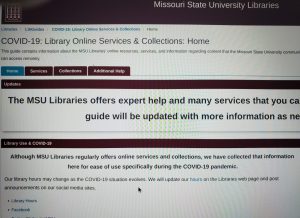 The leadership teams in the MSU Libraries and at MSU as a whole continue to monitor closely the developments here and around the nation and world related to the global pandemic commonly known as COVID-19. This LibNotes article provides updates related to service changes being implemented by the MSU Libraries. 
In response to the COVID-19 pandemic, the MSU Libraries has a new online guide to the various library services and collections available online. Many thanks to Tracy Stout and everyone involved in pulling together this library guide so quickly and so well. 
The circulation period for laptops to check out has been lengthened to two weeks. 
In order to encourage social distancing in Meyer Library, all of the small group study rooms are no longer available to schedule and use, until further notice.
The One-Button Studio and the VocalBooth also are unavailable until further notice. The Lux Kleineck Lactation Room, however, will be available whenever the main part of Meyer Library is open. 
Also, you'll notice some changes to the seating arrangements and options, again to encourage six feet of separation. 
The Innovation Lab on the Lower Level has been closed until further notice. However, current plans are to keep the MSU Testing Center, also located on the Lower Level, open. 
The Special Collections and Archives area on the Third Level will be available only by appointment. 
Interlibrary Loan of books and other tangible materials via MOBIUS, SWAN, and InterLibrary Loan (ILL) has been discontinued until further notice. Many other MOBIUS member libraries have implemented this hiatus in sharing tangible materials. However, whenever digital information files, such as journal articles from other libraries and other suppliers, can be obtained, we will continue to provide the digital information you need.