Oral History Interview with Jeffrey Lawson Focuses on Ira and Zelma Stanphill
Oral History Interview with Jeffrey Lawson Focuses on Ira and Zelma Stanphill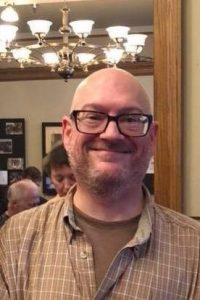 The Missouri State University Libraries has an ongoing program of recording, archiving, transcribing, and making available to the public oral history interviews. Yesterday Dean Peters had the honor and pleasure of conducting an oral history interview with a colleague here at the MSU Libraries, Jeffrey Lawson.
Here's the "it's a small world" tale that provided the impetus for this interview: After Red Foley "discovered" little Brenda Lee in Feb. 1956 in Augusta, Georgia, Red asked Bryan Bisney, the director of the Ozark Jubilee, to contact Brenda's stepfather and manager about having Brenda appear on the show, which she did in late March 1956 and many times subsequently, as her career took off.
Bryan Bisney received in response a letter and a demo tape of Brenda singing three songs: Jambalaya, Your Cheatin' Heart, and Mansion Over the Hilltop. That third song was written by Ira Stanphill. On April 23, 1939 Ira had married Zelma Lawson, who was 16 years old at the time. Zelma was Jeffrey Lawson's aunt!