Dry County Talk by Hinkson
Dry County Talk by Hinkson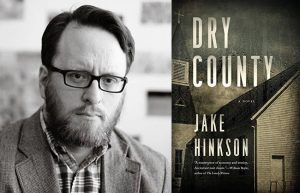 Author of Ozarks noir fiction, Jake Hinkson, will visit Springfield in early April to speak about his latest novel, Dry County.
Jake Hinkson: Talking About Noir Fiction
Thursday, April 2, 2020, at 7:00 p.m.
The Library Center on South Campbell Avenue 
Jake Hinkson is the award-winning author of four novels, a novella, a short story collection, and a book of essays.
Dry County is a story of blackmail and murder set in the Arkansas Ozarks along Highway 65. Hinkson will read from his novel and share his thoughts about writing with Tom Peters, Dean of Missouri State University Libraries.
This is another collaborative program in an ongoing series brought to you by the Springfield-Greene County Library District and the Ozarks Studies Institute, an initiative of the MSU Libraries. This event is free and open to the public.