Milly Project and Leadership Springfield Class 38
Milly Project and Leadership Springfield Class 38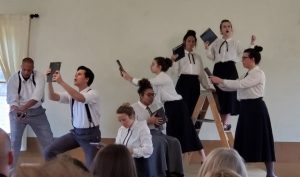 On Tuesday afternoon, February 25, 2020, the theater troupe that has been performing The Milly Project for a year now made a special performance for Leadership Springfield Class 38, which includes Lindsey Taggart and Tyler Drenon from the Missouri State University Libraries. 
Milly Sawyers was a black woman, a former slave, who was pulled out into the street and beaten by some of Springfield's founders after gaining her freedom in 1835. Two years ago, Giacomo (Jack) Bologna, a reporter at the News-Leader at the time, wrote a newspaper story based on some original research done by Connie Yen from the Greene County Archives about court proceedings involving Ms. Sawyers. 
Kendra Chappell, who wrote the script in collaboration with students at Willard High School,  and who directed The Milly Project, was moved by Milly's story about her quest to imagine, proclaim, and struggle diligently for her freedom and inalienable rights. 
The performance occurred in the historic Timmons Hall in Silver Springs Park, which is now managed by the Springfield Park Board. As their website notes, "Timmons Hall, formerly known as Timmons Temple, officially opened to the public in 2019 following relocation to the park in 2015 and  years of restoration work managed by Friends of Timmons Temple. The former church now serves as an event facility offering historical, cultural and educational opportunities, owned and operated by the Park Board and under the direction of Christine Peoples, Coordinator of Timmons Hall." 
The performance was organized as part of a Leadership Springfield program day focusing on the theme of "Springfield: Our Community". Lindsey Taggart, Director of Resource Management and Discovery, planned the program day alongside teammates Chrys Craig (Senior Vice President and Premier Banking Team Leader, BancorpSouth), Natosha Lancaster (Program Director, Isabel's House), Johnny McNeil (Vice President of Community Relationships, Community Partnership of the Ozarks), and Tina Pham (Development Director, Foundation for Springfield Public Schools). 
The MSU Libraries provided some support for this performance of The Milly Project. You can catch The Milly Project on April 24th during the MSU Diversity & Inclusion Conference.