Libraries Faculty & Staff Serve in Many Ways
Libraries Faculty & Staff Serve in Many Ways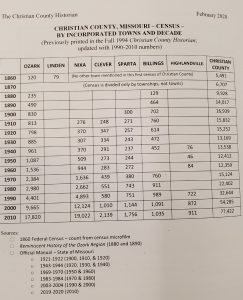 In the spirit of the public affairs mission of Missouri State University, faculty and staff members of the MSU Libraries serve many organizations and groups in various ways.
For example, Shannon Mawhiney, Digital Archivist at the MSU Libraries, currently serves as the President of the Christian County Historical Society and Museum, which was organized in 1976 "for the purpose of promoting interest in our heritage and preserving the history of Christian County." The Christian County Museum, located at 100 E. Elm Street in Ozark, is open Wed. through Sat. from 10:00 to 3:00. 
Tracie Gieselman-Holthaus, an Archivist at the MSU Libraries, is the editor of the Christian County Historian, the quarterly newsletter of the Society. The February issue is out now. Thanks, Shannon and Tracie!