Meyer Library Space Assessment Leads to Process & Procedure Redesign
Meyer Library Space Assessment Leads to Process & Procedure Redesign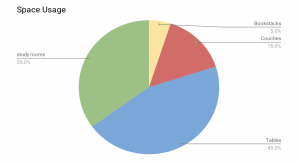 Meyer Library administration collaborated with faculty members Laura Derrick and Nancy Asay and approximately 50 of their students enrolled in HID 201 – Studio 1 during the Fall 2019 semester.  This class focused on observing and assessing of MSU Library space use with the goal of making recommendations for changes and projects. Some of their findings and recommendations are below.
Student Observations:
The Second Level atrium is the space most consistently populated by studiers

Stairs are used by more users than elevators

We offer many wonderful and exciting services that aren't apparent in the space

There is a marked temperature contrast between the old and new buildings at times

Outdoor spaces are underutilized
General recommendations for improvement included:
Redesigning signage and wayfinding

A cohesive, building-wide display, promotion, and exhibit approach

Refresh general color scheme

Replacing, removing, or finding other ways to care for plants that are not thriving or no longer fit the space

Increasing the number of booths

Replacing soft seating in the stairwell
We appreciate the time and efforts both the students and the instructors contributed to this project.  We are going to work on addressing selected recommendations. We are starting with a concerted effort to improve signage and wayfinding as well as creating a more cohesive approach to displays and art in the building.  Our graphic designer, Nathan Neuschwander, will be leading a task force to work on these issues with the goal of launching a new approach in August 2020.  
Look out for more updates and projects related to the HID201 observations and recommendations, and thank you again to Laura, Nancy, and all the students for their perspectives and work to help Meyer Library become even better.