Black History Month Celebration at Timmons Hall
Black History Month Celebration at Timmons Hall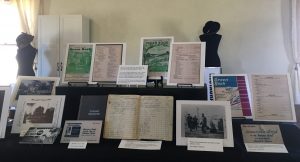 On Saturday, February 3, Special Collections and Archives of the Missouri State University Libraries, had the opportunity to join one of the many celebrations of Black History Month in Springfield.
Tracie Gieselman-Holthaus shared selected items from the Ora Logan Collection that focused on Mrs. Alberta Ellis (Ora Logan's mother). She was the owner of Alberta's Hotel, a local business promoted in the Green Book. In addition to business cards and photographs, the hotel's Tourist Register was opened to display to names of the Harlem Globetrotters, who were guests on January 22, 1955. Color prints of the Green Book were accessed from The New York Public Library's Digital Collections. (A facsimile of the 1954 edition is available for viewing in the Archives' Reading Room.)
The Peoples History Café event included discussions and performances such as a panel discussion regarding African Americans in the Medical Profession, and a history skit about Alberta's Hotel. The event was held in Timmons Hall, a historic African American church that was relocated and restored by the community. The church moved to Silver Springs Park, which was the city's only park for African Americans during segregation.