Meyer Library Wins Best Campus Study Spot Award Again
Meyer Library Wins Best Campus Study Spot Award Again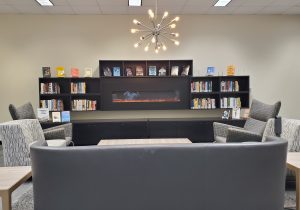 For several years now the Duane G. Meyer Library on the Springfield campus of Missouri State University has won the "Best Campus Study Spot" Award. The award is based on voting by students in an online poll conducted by The Standard, MSU's student-run newspaper. We won again in 2019. 
The multi-year project to renovate the public areas of Meyer Library continues in 2020. Later this semester new furniture will be added to the Skylight Area on the east side of the Second Level. A large area on the west side of the Second Level also is being renovated. More of the popular diner booths will be added in the area just north of the Living Room on the First Level. 
Congratulations to everyone who helped Meyer Library win the "Best Campus Study Spot" again in 2019.