Gillespie Collection of Theoretical Mathematics
Gillespie Collection of Theoretical Mathematics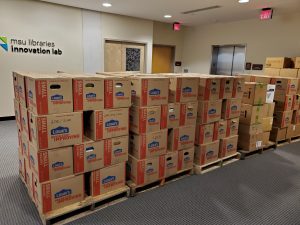 The Missouri State University Libraries recently received a large collection of books about various topics related to theoretical mathematics: number theory, chaos theory, etc. The gift was made by Lanarae Gillespie, the widow of Frank Gillespie.
Frank Gillespie was a mathematics professor at SMS/MSU for 35 years, retiring in 2003. He passed in October 2018.
The size of the collection has not yet been determined, but it is estimated to be approximately 8,000 volumes. The entire collection has been received in Duane G. Meyer Library, but it will take some time to fully process this large collection and make it available for use. We thank the Gillespies for building this fine collection and donating it to the MSU Libraries.