CAST to Hold Open House
CAST to Hold Open House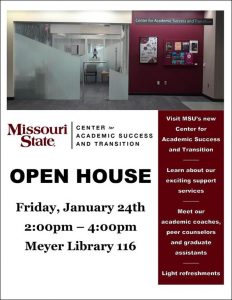 CAST, the new Center for Academic Success and Transition at Missouri State University, and the newest service center in Duane G. Meyer Library, will hold an open house on Friday, January 24, 2020, from 2:00 to 4:00 p.m.
The goal of CAST is "to ensure that students are retained, thrive and graduate from the University. This is done through the coordination of activities and delivery of student services focusing on academic support beginning with student transition into the university and persistence through graduation." Dr. Kelly Wood serves as the Executive Director of CAST. 
CAST is located on the main level of the library, near the "living room" and the BearCLAW. Light refreshments will be served.