"First FOLIO at MSU" Updates
"First FOLIO at MSU" Updates
MSU-West Plains Joins the "First FOLIO at MSU" Project: Last week Dean Peters met with Dr. Dennis Lancaster, Dean of Academic Affairs at the MSU-West Plain campus. They agreed that both the Garnett Library on the West Plains campus and the Barbe Library on the Mountain Grove campus would participate in the "First FOLIO at MSU" Project. The search for a new Library Director for MSU-West Plains is underway, following the death of Sylvia Kuhlmeier. Once the new director is on board, they will become a member of the "First FOLIO at MSU" Steering Committee.
Yesterday two Lead Implementation Consultants for FOLIO from EBSCO Information Services spent the day in the Duane G. Meyer Library conferring with various faculty and staff members about the upcoming migration to the new system. Anya N. Arnold and Patty Dwyer Wanninger have considerable recent experience with numerous system migrations. They provided lots of advice, including: use the implementation as an organizational opportunity to review and streamline all processes and procedures; watch for and be mindful of gaps; articulate and defend all assumptions; keep usage scenarios and the user experience in mind at all times; leverage the leveling of all metadata across all information sources (e.g., catalog, institutional repository, CONTENTdm, and our dedicated YouTube channel); and exploit the flexibility and robustness of the FOLIO system.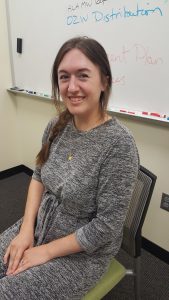 Next Monday Lindsey Taggart, Assistant Professor of Library Science at MSU, will travel to Warrensburg to confer with representatives of the University of Central Missouri Library and MALA about resource sharing opportunities post-MOBIUS. 
Plans are underway to send MSU representatives to WOLFcon, the World Open Library Federation Conference to be held in College Station, Texas, January 22-24, 2020. Also, some members of the Steering Committee of the "First FOLIO at MSU" Project will travel to Tuscaloosa, Alabama, during Q1 of 2020 to confer with other early adopters of FOLIO, including the University of Alabama and Chalmers University.