Innovation Lab at the MSU Libraries
Innovation Lab at the MSU Libraries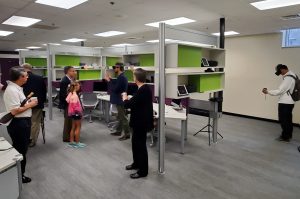 Over 60 people attended the grand opening on September 24, 2019 of the new Innovation Lab at the MSU Libraries. Dr. Frank Einhellig, Provost at MSU, provided some brief remarks.
The MSU Libraries Innovation Lab seeks to provide access to emerging technologies, such as virtual reality (VR), augmented reality (AR), robotics, 3D printing, and more, to support interdisciplinary research, active learning, workplace readiness, curricular enhancements, entrepreneurship, and regional economic innovation.
A team from KOLR10 TV filed this report about the new Innovation Lab.