Many MSU Libraries Employees Contribute to TechnOzarks Book
Many MSU Libraries Employees Contribute to TechnOzarks Book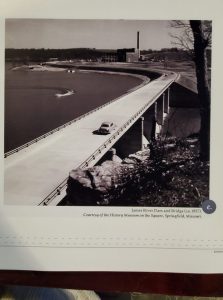 Several faculty and staff members of the MSU Libraries have contributed to a forthcoming book from the Ozarks Studies Institute, titled TechnOzarks: Essays on Technology, Regional Economy, and Culture. The book currently is being printed and will be available for sale in a little over a month.
Rachel Besara contributed an essay about Open Access and Digital Commons at MSU.
Jim Coombs contributed a chapter on Mapping Springfield.
Nathan Neuschwander took photographs for the Mapping Springfield chapter.
Tracie Gieselman-Holthaus selected the images that appear in five photo essays: one about Big Machines of the 20th Century, another about the Building of the James River Dam, yet another about media images related to the Ozarks, one about Springfieldians at work, and one about Transportation in the Ozarks. 
Shannon Mawhiney helped select the images that appeared in a photo essay about legacy technologies in area museums and special collections, as well as an essay on the effects of silent-to-talking movies in the Springfield area. 
Sue Reichling added her thoughts on Virtual Reality to the Forum on the Future piece. 
Tom Peters co-edited the volume, along with Paul Durham, and contributed two essays: one about the Ozark Jubilee as a national TV broadcast, and one about Powersite Dam. 
All told, over 70 people contributed to this anthology. Congratulations and thanks!