David Scrivner Focuses on the Music of the Ozarks
David Scrivner Focuses on the Music of the Ozarks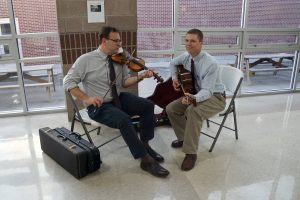 David Scrivner has joined the MSU Libraries as a non-student, part-time employee to expand and advance our efforts related to the music of the Ozarks. The Ozarks Music Project will focus on all facets of the music of the Ozarks, including church choirs, music venues, such as the Shrine Mosque, and the contributions of Ozarkers to commercial country and western music. 
Last week David won the Grand Champion Award at the Arkansas State Old Time Fiddle Contest, sponsored by the Ozarks Folk Center in Mountain View. David regularly participates in the jam sessions held in McClurg, Missouri on Monday evenings. 
David currently works at BKD in Springfield. Prior to that he was a professor of English at the College of the Ozarks. Welcome, David.