Special Collections & Archives Receives Sigma Tau Gamma Scrapbook
Special Collections & Archives Receives Sigma Tau Gamma Scrapbook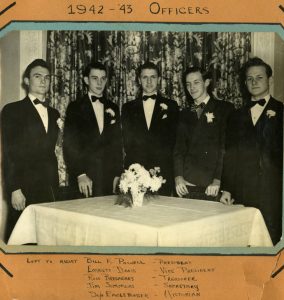 The Sigma Tau Gamma Scrapbook (M 114) was recently donated by members of the fraternity to Missouri State University's Special Collections and Archives. Special Collections has digitized the scrapbook in its entirety and made it available online. Examples of items in the scrapbook include photos, newspaper clippings, and ephemera (such as invitations and matchbooks), all dating from 1939 to the 1950's (plus one item from 1984).
Originally called the Key and Dagger social club, the Sigma Tau Gamma fraternity chartered into Missouri State University on May 18, 1941 (then known as Southwest Missouri State Teachers College).
Highlights of the campus fraternity surrounded their annual Costume Ball that concluded the fall rush season, and their Dinner Dance party that concluded the spring rush season. Sigma Tau received a new house following World War II when most of the active members went overseas during the draft.
After a few years of pushing to grow active membership, Sigma Tau lost their charter in 1987 due to low membership. In the fall of 2017, the university reissued the Sigma Tau charter, reopening the fraternity.
For more information, contact MSU's Special Collections and Archives or see the collection's finding aid.