Byrne Blackwood's Life Celebrated
Byrne Blackwood's Life Celebrated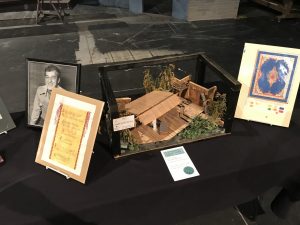 The Special Collections and Archives are of the MSU Libraries was honored to participate in the Celebration of Life for Byrne Blackwood last weekend. Archives staff member Jeffrey Lawson worked with Theatre and Dance Emeritus Faculty member Chyrel Miller and the staff of the Alumni Center to coordinate the three-day event to celebrate the legendary former director of Tent Theatre.
Pictures and photo albums from Archives were displayed at an opening reception on Friday. Tent Theatre alumni gathered Saturday to view Archives' display of Dr. Blackwood's set models and original design sketches on the stage of Coger Theatre, and display cases in the lobby with his personal photos and memorabilia.
On Sunday, University president Clif Smart, former Theatre and Dance department head Dr. Robert Bradley, and Dr. Blackwood's son Randy spoke at the "B Grateful" brunch, where a memorial slideshow created by Jeffrey was shown. Dr. Blackwood's family has generously donated a treasure trove of his personal files, artwork, and slides to Special Collections and Archives.
For more information, please contact Special Collections at 417.836.5428 or JeffreyLawson@missouristate.edu.