Special Collections Spotlight: Historic Springfield Collection (M26)
Special Collections Spotlight: Historic Springfield Collection (M26)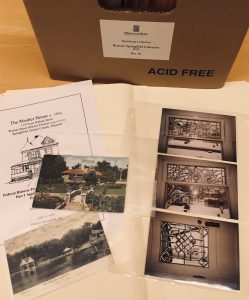 The Historic Springfield Collection (M 26) in Meyer Library's Special Collections and Archives contains photographs of properties and publications created or collected by the not-for-profit corporation named Historic Springfield. The corporation formed in 1999 to promote the preservation of Springfield's "cultural resources" and provide historic consultation throughout the community. Historic Springfield aspired to demonstrate historical preservation through the restoration of The Mosher House on East Walnut Street as the Living History House Museum.
The bulk of the collection consists of photographs of properties in downtown Springfield, including interesting decorative details, such as the leaded glass in the Mosher House. The collection also contains materials given to the Mosher House, including the diary of Frances Ann Bishop, a Walnut Street resident in the 1890s. In addition to numerous Abstract of Titles and reports, the collection holds other publications collected by the corporation, including postcards featuring images of local properties such as Doling and Fassnight Park, and informative reports and pamphlets regarding the historic districts in Springfield, Missouri.
For more information, please contact Special Collections and Archives.