Special Collections Spotlight: B. B. Lightfoot Collection (M66)
Special Collections Spotlight: B. B. Lightfoot Collection (M66)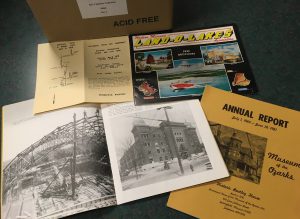 The B.B. Lightfoot Collection (M 66) in Meyer Library's Special Collections and Archives is a collection of materials gathered by Dr. Lightfoot, professor for over 35 years in the History Department at what is now known as Missouri State University. The collection contains Lightfoot's research materials, course- related documents, and personal records, such as a scrapbook focusing on the end of World War II in the Guam.
Lightfoot's research interest focused on Comanche County, Texas, but he was also interested in Missouri and the Ozarks. He was involved with numerous local organizations that sought to preserve historic buildings and remember historical events, such as the Greene County Historical Sites Board, Greene County Historical Society, Civil War Round Table of the Ozarks, and Museum of the Ozarks (now the History Museum on the Square). In addition to preserving organizational materials such as minutes and bylaws from these groups, Dr. Lightfoot gathered publications from many of these organizations.
The photographed items range from the late 1960s to the early 1980s, and include tourism materials for Western Missouri lakes; the 50th Anniversary of the Shrine Mosque booklet, published in 1973; an Annual Report for the Museum of the Ozarks; and a program for a Historic Springfield House and Site Tour.
For more information, please contact Special Collections and Archives.