Annual BRB Book Sale Another Success
Annual BRB Book Sale Another Success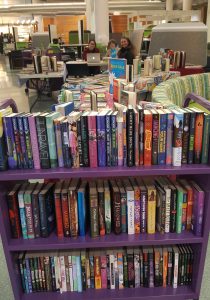 The 2018 edition of the annual BRB Book Sale, held earlier in November, was another success. The sale netted over $600, which helps support outreach, workshops, and PR.
The Children's and Young Adult Book Review Board of Missouri  promotes quality children's and young adult literature, focusing on multicultural and series titles. As part of Missouri State University's public affairs mission, the BRB fosters cultural competence and community engagement. The BRB staff and volunteers write reviews that are available online, and present book talks and workshops at schools, libraries, and conferences. The BRB regional viewing room at Duane G. Meyer Library on the Missouri State University Springfield campus allows hands-on examination of titles.
The BRB also will provide support for the well-know children's book illustrator, A. G. Ford, on Thursday, March 28, 2019, as part the visiting national exhibit, "Telling a People's Story: African American Children's Literature," which will be shown on the Second Level of Duane G. Meyer Library from Wednesday, April 3, 2019 through Wednesday, May 22, 2019.