President Trump to Attend Rally in JQH Arena
President Trump to Attend Rally in JQH Arena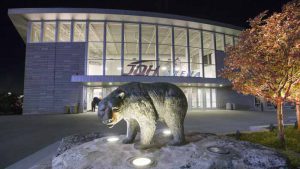 On Friday, September 21, 2018, President Trump is scheduled to attend a political rally to be held in JQH Arena on the Springfield campus of Missouri State University.
The rally will begin at 6:30 p.m., with doors opening at 2:10 p.m. for this no-charge, ticketed event. Ten thousand people are estimated to attend the event, or to participate in protests outside the arena.
Because Duane G. Meyer Library is located two blocks from JQH Arena, library users and employees may experience some minor inconveniences, and a few library services may close early on Friday afternoon.
Per MSU President Smart's directive, non-essential employees, after confirming with their immediate supervisors, may leave work at 3:00 p.m. on Friday.
Streets, walkways, and parking lots on campus may become congested or closed.
The library as a whole, however, plans to remain open until 6:00 p.m., the normal Friday closing time when classes are in session.
For updates on overall logistics regarding this event, please visit this MSU News Page.