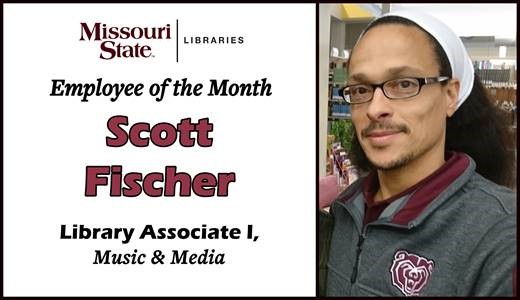 Employee of the Month for August 2018: Scott Fischer
Employee of the Month for August 2018: Scott Fischer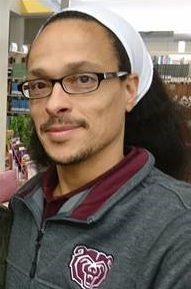 Music & Media team member, Scott Fischer has been a part of the University Libraries family (in one capacity or another) since 2006. He's also our Employee of the Month for August 2018. We asked Scott a few questions to help you to get to know him a bit better:
What originally attracted you to library work?
"I have a lot of friends that went through the music program here at MSU and they always used to tell me, "You need to get a job at the Music Library." This was back when it was located in Ellis Hall. I liked music and I liked books, so it seemed like a good fit. I was hired as a Student Worker and haven't looked back since. My degree is in Education, and I really enjoy teaching new students "How to Fish" when it comes to looking for items or using our databases, so I'm technically still using my degree, right?"
Is there a library resource you'd like to highlight? Something you think is underutilized?
"The HTC Vive Virtual Reality headset is pretty dang awesome. I think it is something all of our students, staff, and faculty should try at least once. We have a lot of different games/apps to try out; some interactive and others passive."
What book, author, artist, music, movie, show, etc. are you into right now? (Persuade us to like it too (or tell us why we shouldn't!))
"One word: Netflix. There's a lot of fun and varied original programming, both domestic and international, to choose from. They also do a good job of finding obscure TV shows I never knew I needed or might have missed from channels like AMC, SundanceTV, BBC, Syfy, etc."
Jir Shin Boey, Head of Music & Media at MSU Libraries shared, "Scott is a wonderful and compassionate colleague. He is exceptionally thorough with everything he does, is a superb instructor, and brings cheer to the Music & Media department."
Kudos, Scott!