Real Film Crew Captures VR Experience in MSU Library
Real Film Crew Captures VR Experience in MSU Library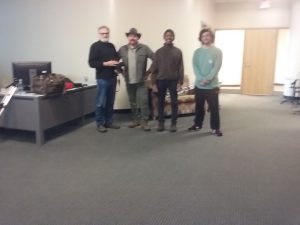 Dr. Lemont "Monty" Dobson and members of his film crew, Patrick, Jack, and Alex, recently used the VR (Virtual Reality) Room 302 in Meyer Library and the garden area behind the library to film part of a documentary called "America From the Ground Up" that airs on PBS. Past episodes are available on YouTube.
The focus of the visit included interviewing Dr. John F. Chuchiak IV about his and MSU alumnus Justin Duncan's work, "A Three-Dimensional Multi-Media Recreation of the 1601 Public Auto de Fe General of the Mexican Inquisition", that uses VR.  Dr. Dobson and crew were quite impressed by the VR experience.  Dr. Chuchiak sees the tool as a way to bring the humanities to life.
"Post-millennial generations are going to be incredibly visually oriented," he said. "If we don't captivate their interest with this type of a digital humanities project, the humanities are going to fade away into being insignificant in the public's mindset."
"We created a virtual reality simulation of the inquisition's auto-de-fé, through the story of a young Jewish woman who was persecuted by the Mexican Inquisition, to teach empathy and religious tolerance," Chuchiak said. "Using an avatar as either a viewer or participant in the event, you'll feel the terror of being persecuted."  
Archaeologist Dr. Monty Dobson is the creator, host, and Executive Producer of America from the Ground Up. A Research Assistant Professor at Central Michigan University, Monty holds a PhD in archaeology from The University of York. As a Public Archaeologist/Historian, Monty has served in senior and executive roles in museums in the US and UK. When not climbing around archaeological sites with a camera crew, Monty lives in Missouri with his wife Jacqueline, a fashion stylist and wardrobe consultant, and their three rescue cats.
America from the Ground Up is a partnership between Central Michigan University College of Humanities & Social & Behavioral Sciences, CMU Public Television, and The Missouri Humanities Council.