Special Collections Spotlight: HEREBIU (The B stands for Bartender)
Special Collections Spotlight: HEREBIU (The B stands for Bartender)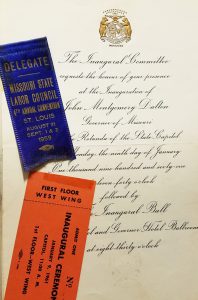 The Records of the Hotel Employees & Restaurant Employees and Bartenders International Union (HEREBIU), Local 336 in Meyer Library's Special Collections and Archives documents the Springfield labor union from 1945-1964 with by-laws, minutes, correspondence, and more.
HEREBIU, Local 472, was chartered in 1934 and represented Springfield area bartenders.  Local 472 was popularly referred to as the Bartenders' Union, while HEREBIU, Local 336, which organized restaurant workers, was often called the Culinary Alliance.
In 1953, Local 472 amended their by-laws to exclude women from their union.  At least one bar, The Grove, was picketed when the proprietor insisted on hiring a female bartender.  The bartender, Betty Sue Lisenby, was denied membership in the union due to her gender.  The union claimed the denial was because Lisenby crossed a picket line in 1949.  The National Labor Relations Board decided in favor of Local 472 and Lisenby was replaced by a male union member.  On March 11, 1956, Local 472 admitted Shelly Farron as the first female bartender in Springfield.
During the 1961 negotiations, the Springfield Bar Association announced that member bars would now be open shops, free to hire union or non-union labor.  Local 472 posted pickets on April 25.  After several weeks on strike, some bartenders began taking other jobs.  Spirit was low among the remaining members; many accused the International office of abandoning Local 472.  On June 3, the strike was declared a defeat.  On July 9, 1961, President Ralph Dillard and Business Agent Harold Gardner resigned, citing the memberships' displeasure with the way they handled the strike.
On February 28, 1962, Local 472 merged into Local 336 due to decreasing membership.  At the time of the merger Local 472 had only 33 active members; Local 336 membership was approximately 120.  Local 336 has not been active since the late 1960s.
See the collection's finding aid for more information, or contact Special Collections and Archives.