Special Collections Spotlights: Two Off-Site Exhibits Feature Materials from MSU's Special Collections
Special Collections Spotlights: Two Off-Site Exhibits Feature Materials from MSU's Special Collections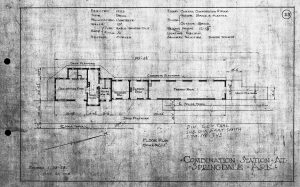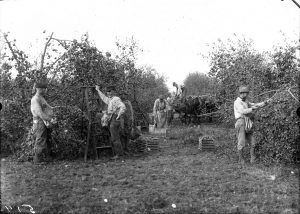 Two different displays at locations outside of the Springfield area have recently used material from Meyer Library's Special Collections and Archives.
The Shiloh Museum of Ozark History in Springdale, Arkansas, included a door from the 1923 Frisco railroad depot in Springdale, which was torn down in the 1980s, in a recent exhibit.  To accompany the door, Special Collections and Archives provided a digital scan of the depot's floorplan, which included specifications such as material used in its construction, locations and sizes of the segregated waiting rooms, and utility information (electric lighting and inside toilets).  To see the entire collection of Frisco depot diagrams, which includes locations from Kansas to Alabama, browse through them in our online Digital Collections.
The restaurant and taproom of Brick River Cider Company will also be displaying images from the Fruitful Heritage collection in their new location at a renovated St. Louis firehouse. The images, digitized from a collection of glass plate negatives created by the State Fruit Experiment Station in Mountain Grove, Missouri, show early 20th century apple harvesting in Mountain Grove.  The Fruit Experiment Station has been a part of Missouri State University since 1974, but its history dates back to 1899.  Many of the station's early materials are available online through the Fruitful Heritage collection and the Missouri State Fruit Experiment Station Publications in our Digital Collections.
For more information about these collections or others, contact Special Collections and Archives.