Trucking Down the Mother Road Talk in Lebanon on January 29th
Trucking Down the Mother Road Talk in Lebanon on January 29th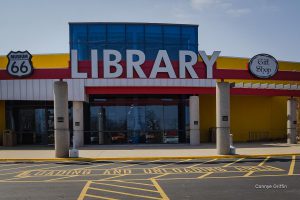 "Trucking Down the Mother Road" will be the program topic when the Lebanon-Laclede County Route 66 Society holds its annual membership meeting at 6:30 p.m. on Monday, Jan. 29, at the Lebanon-Laclede County Library. Non-members are welcome to attend this free meeting and public lecture.
Tom Peters and Kaitlyn McConnell will discuss their project to produce 20 or more oral histories about trucking on Route 66. Peters is Dean of Library Services at Missouri State University, and McConnell is founder of Ozarks Alive, a private initiative to research and write articles about various aspects of Ozarks life and culture.
The project is a collaborative initiative between the Missouri State University Libraries and OzarksAlive.com.
This project is made possible in part by a grant from the Route 66 Corridor Preservation Program of the National Park Service.