Schoolcraft Bicentennial Plans Are Taking Shape
Schoolcraft Bicentennial Plans Are Taking Shape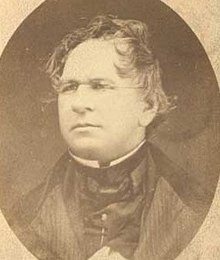 The fall of 2018 will mark the bicentennial of Henry Rowe Schoolcraft's exploration of the Ozarks region, which began in Potosi (now in the state of Missouri) on Thursday, November 18, 1818, and culminated January 1-5, 1819 at the site of a lead mine near the mouth of Pierson Creek, where it flows into the James River, just southeast of present-day Springfield. This is the reason why Highway 65 on the east side of the Springfield metro area is called Schoolcraft Freeway.
The Missouri State University Libraries is helping to organize a planning meeting of the various organizations and individuals interested in hosting events, exhibits, and explorations related to the Schoolcraft Bicentennial. The meeting will be held on Monday, October 23rd from 10:00 a.m. to noon in the large meeting room at the Schweitzer Brentwood Branch (2214 S Brentwood Blvd, east of the intersection of Glenstone Ave. and Seminole) of the Springfield-Greene County Library District. All are welcome to attend. Ample parking is available. Refreshments will be served.
Many organizations already have expressed interest in the Schoolcraft Bicentennial, including: Greene County Archives, History Museum on the Square, Missouri Department of Conservation, Missouri State University Libraries, Smallin Civil War Cave, Springfield-Greene County Library District, State Historical Society of Missouri, Trillium Trust, White River Valley Historical Society, and more.