Interlibrary Loan Supports Researchers
Interlibrary Loan Supports Researchers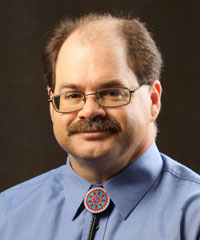 There is no telling what awaits Interlibrary Loan (ILL) personnel as the patron requests roll in. While the Missouri State University Libraries tries to make resources as readily available as they can, there are still many physical and digital items that the library cannot immediately provide. Those requests often require the intervention of Interlibrary loan to fulfill patron information needs. Dr. William Meadows, an MSU professor from the Sociology-Anthropology Department, is a frequent recipient of ILL services.
One area of my research is Native American Code Talkers in WW I and WW II. A large percentage of sources in two books and several articles have come through ILL because many of my sources involve old, out of print, and often obscure sources from a variety of fields (anthropology, history, military history, Armed Forces publications, newspapers, magazines, etc.). In addition, they have provided me with many books from varied libraries across the Nation.
Frequently, I have been pleasantly surprised at some of the difficult to find items that they have been able to get other institutions to loan me copies of. Deborah Williams, who retired a while back, and Shannon Conlon have both been extremely helpful and a pleasure to work with. I am very thankful to them for their skills and have included them in a recent acknowledgement section of a book manuscript I currently have under review at the University of New Mexico Press many of the sources used in this work came through them at ILL. Shannon continues to help me in acquiring my endless requests of obscure, hard to find sources, and often gets them faster than I expect.
Requests, such as those from Dr. Meadows, may be quick and easy to find and request, but they also can be incredibly challenging to find and even more difficult to obtain. Shannon Conlon, who oversees ILL at the Duane G. Meyer Library, says "Obtaining rare or hard to find items, like the sources Dr. Meadows needed for his book, is especially rewarding." It can be difficult to find accurate citations about magazines and newspapers. On top of that, only one or two libraries may have such sources. Conlon often has to browse individual library catalogs and call libraries directly to see if citations are correct and to see if a library is willing to copy an article and send it digitally.
Every day is a new day of requests from Missouri State University patrons. Interlibrary Loan personnel know they have accomplished their goal when they empower patrons to accomplish their research purposes.