Special Collections Spotlight: Labor Union Charters
Special Collections Spotlight: Labor Union Charters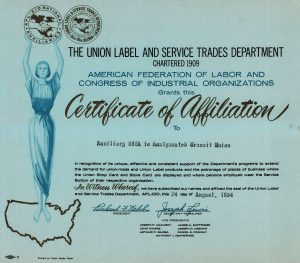 The Labor Union Charters Collection (LA 29) in Special Collections and Archives contains forty-three charters and certificates of affiliation for various local labor unions, the oldest dating back to 1884.  The majority of the documents are from Springfield, but there are a few from other Missouri communities, like Joplin and Jefferson City, as well as Wichita and Parsons, Kansas.  The most decorative of the collection is suitably the 1932 charter for Springfield's Brotherhood of Painters, Decorators, and Paperhangers of America.
Also among the collection are charters from local women's auxiliaries, such as this 1950 certificate for the Women's Auxiliary of the American Federation of Grain Millers Local Union No. 52 of Springfield, which also declares in bold lettering, "Prosperity Makes Tyrants, Adversity Makes Slaves."
All of these documents can be viewed and searched online in our Digital Collections.