Recent Employee Publications
Recent Employee Publications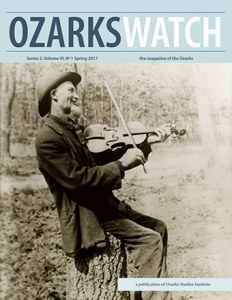 Abbey Waterworth, a student assistant in Special Collections and Archives, had an article published in the Spring 2017 issue of OzarksWatch Magazine, a publication of the Ozarks Studies Institute at MSU. The article is about Nick Sibley and Ruell Chappell, two long-time icons of the Springfield music scene. Abbey often performs with Nick and Ruell as, you guessed it, Nick, Ruell, and Abbey.
Tom Peters, Dean of Library Services, had two articles published in the Spring 2017 issue of OzarksWatch magazine. One is about the Weaver Brothers and Elviry, a group that had a very successful hillbilly variety show in the national and international vaudeville circuit, as well as on the silver screen. The other is about the Ozark Jubilee, the live, nationally broadcast television show that emanated from the Jewell Theater in downtown Springfield from 1955 to 1960.
Nathan Neuschwander did an excellent job of designing this issue of OzarksWatch.