Students "Pop" Into the Library
Students "Pop" Into the Library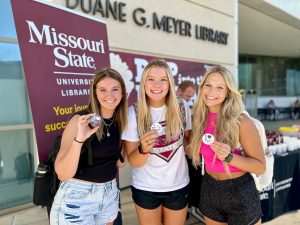 The Missouri State University Libraries welcomed hundreds of students back to campus this fall with its "Pop into the Library" tabling event.
The four-day affair, spearheaded by the Marketing and Communications team, invited students to learn more about the University Libraries' resources, services, and spaces. Nearly a dozen employees from across the library volunteered at the event to connect with students, answer library-related questions, and hand out free popcorn, sodas and University Libraries swag.
Students and library employees alike enjoyed making custom buttons with graphics that read, "Book Lover," "Read Banned Books," "Read Queer Books," "Read Diverse Books," and more.
A special thank you to all the library employees who volunteered their time to help introduce (or reintroduce) students to the University Libraries.