BearFest Village and Library "Study Hall" Hours
BearFest Village and Library "Study Hall" Hours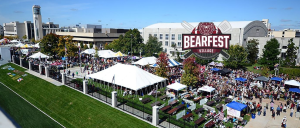 BearFest Village activities will resume this week ahead of MSU Football's first home game on Thursday, Sept. 8. In an effort to prioritize student study and research during this time, Meyer Library will switch to "study hall" hours on Thursday, Sept. 8 from 4-7:30 p.m.
Here's what library users need to know:
If you plan to visit the library Thursday, Sept. 8 between 4-7:30 p.m., you need to arrive before 4 p.m. to gain access into the building (this applies to all library visitors, including BearPass holders).
Library doors will close at 4 p.m., but the library will remain open to those already in the building.
Regular access to the library will resume from 7:30 p.m. until close.
These "study hall" hours will be implemented throughout the fall semester in conjunction with MSU Football home games. If you have any questions about study hall, please email libraries@missouristate.edu.