Spotlight on the Birdle Mannon Collection
Spotlight on the Birdle Mannon Collection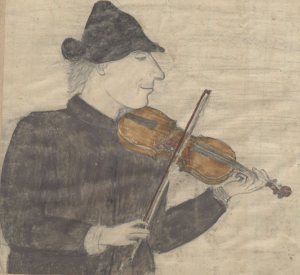 One of the many digitized special collections of the Missouri State University Libraries focuses on the life and art of Birdle Mannon and her birth family. 
Birdle Hilda Rosalie Mannon was born on April 15, 1909.  In 1916, when Birdle was seven, the Mannon family (mother (Thea), father (Samuel William), two daughters (Birdle and Elnora), and two sons (Miles and Hadley)) moved from a sod house near North Platte, Nebraska, on the Great Plains to the Ozark Mountains and a rustic homestead south of Brownbranch in northeastern Taney County, Missouri. 
The Mannon homestead never was modernized. There was no electricity, no furnace, no bathroom, no modern appliances and conveniences, no air conditioning, and no indoor running water. Later in the twentieth century, after all her family had passed and Birdle was living alone, she consented to the advice from friends that a rotary phone be installed in her rustic home. 
Birdle was an educated, artistic, deeply religious woman. She graduated from Ava High School and attended Southwest Missouri Teacher College (now Missouri State University) for several summers. She was a school teacher, a Sunday school teacher, and a newspaper correspondent for several local newspapers, such as the Douglas County Herald. She regularly attended the Caney General Baptist Church in Brownbranch, which still stands. It's near Caney Creek, just upstream from its confluence with Beaver Creek. 
In a 1998 feature article in the Springfield News-Leader, Birdle noted, "I'm just an ordinary person, except I live by myself in the backwoods. That's a little odd, I know, but I've always been an oddball." 
Birdle died on October 26, 1999 at the age of 90. A few years later, her home was moved to Silver Dollar City, and many of the family's documents, including their artwork, came to the Special Collections area of the MSU Libraries.