OSI Author Talk Series Continues
OSI Author Talk Series Continues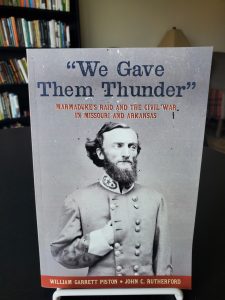 The fall 2021 series of author talks and book signings, organized and sponsored by the Ozarks Studies Institute, is off to a good start. Earlier this week Professor William Garrett Piston spoke about the process of researching and writing the recently published book that he and John Rutherford authored, We Gave Them Thunder: Marmaduke's Raid and the Civil War in Missouri and Arkansas. Fourteen people attended, including three via Zoom. Jim Coombs, recently retired Library Science faculty member, was recognized for the maps he created for the book. Unfortunately, John Rutherford was ill and unable to attend.
The next speaker in the series will be Laura McHugh. On Tuesday, October 5, 2021 at 7:00 p.m. at the Library Center on South Campbell Avenue, she will  discuss her most recent novel, What's Done in Darkness. In-person attendees will be required to wear masks. 
On Thursday, November 4, 2021 at 7:00 p.m., Tom Koob and Curtis Copeland will discuss their new book, Ozarks Hillbilly: A Study of the Stereotype and Reality. This talk will be held in the Ozarks Room on the Third Level of Duane G. Meyer Library on the main Springfield campus of Missouri State University. 
On Thursday, December 2, 2021 at 4:00 p.m., Brooks Blevins will discuss the final volume in his monumental general history of the Ozarks Region, A History of the Ozarks, Volume 3: The Ozarkers.  
Plans already are forming for the spring 2022 series of author talks and book signings. A book about May Kennedy McCord is scheduled to be published, as well as one about conducting oral histories in the Ozarks multi-state region. A book about Lucille Morris Upton also will be published in 2022. We are working with the authors of these fine books and others to come to Springfield to speak about them. 
All talks in these series are free and open to the public.