Ozarks Room Now Open
Ozarks Room Now Open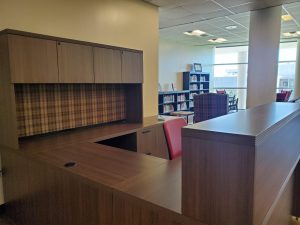 The new Ozarks Room on the Third Level of Duane G. Meyer Library on the main Springfield campus of Missouri State University is now open.
In general, the room will be open Monday through Friday from 10 a.m. to 6 p.m. However, books and other library materials in the collection in the Ozarks Room can be retrieved whenever the library is open by going to the main service counter on the main level, right at the top of the interior ramp. 
Because only two employees of the MSU Libraries will be regularly working in the Ozarks Room, we may need to close the room temporarily for lunch breaks on certain days. 
The furnishing of the Ozarks Room is not yet complete. Plans call for more Ozarks-related images to be hung from the walls, along with the addition of several video monitors and other Ozarks-related objects.
Plans also call for meetings, author talks, and other events to be held in the Ozarks Room. A grand opening reception is being planned for this fall. Details on that will be forthcoming.