Bryan T. E. Bisney Digital Collection
Bryan T. E. Bisney Digital Collection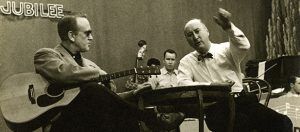 The Missouri State University Libraries is very pleased to make available online the Bryan T.E. Bisney Collection. This collection was digitized from materials collected by Bryan Bisney (1908-1995) during his distinguished career in radio and television, particularly from Bisney's time in Springfield, Missouri, producing shows such as Ozark Jubilee, Talent Varieties, The Eddy Arnold Show, and more. 
Originating first as a local television broadcast on KYTV in December 1953, then as a stage show and KWTO radio broadcast, evolving in 1954 into an ABC nationwide radio show before launching in January 1955 as a live national television broadcast, Ozark Jubilee was a country music variety show broadcast from the Jewell Theatre in Springfield, Missouri, and aired weekly on the ABC Television Network from 1955 to 1960. 
The show launched the careers of performers such as Porter Wagoner, Wanda Jackson, and Brenda Lee, and regularly featured established stars such as Webb Pierce, Faron Young, Patsy Cline, and Johnny Cash, along with many locally based artists. During its run, the Jubilee gave millions of television viewers their first exposure to country music, and for a brief time Springfield ranked third in the country as a center for network television production—behind only New York and Hollywood.
Now through the Digital Collections of the MSU Libraries, especially those of the Special Collections and University Archives of the MSU Libraries, with outstanding work by the Digitization Lab of the MSU Libraries, researchers can explore such rare items as Bisney's original scheduling notebooks for Ozark Jubilee, scripts from the show, publicity photographs, network memos, and original correspondence from the various performers. Videos containing more episodes of Ozark Jubilee, footage of interviews with Bryan Bisney, a historic gathering of Jubilee alumni, and more will be available through the MSU Libraries YouTube channel.
The items were generously provided to the MSU Libraries for digitization by Bryan Bisney's son John Bisney, who states,
"I am extremely grateful to Missouri State University for realizing the historical significance of Ozark Jubilee, and for its leadership in preserving its legacy. My father would probably be surprised, but quite pleased, at the recognition the show is getting more than 65 years later. It was not a difficult decision to have his collection housed at MSU, as Springfield was the home to the program and its spinoffs for more than six years. The city is understandably proud of its historical and ongoing contributions to country music. I sincerely hope that through the Bryan T.E. Bisney Collection, future generations will have a greater understanding of how important Ozark Jubilee was to popularizing country music in the United States, as well as launching the careers of so many influential artists."  
Tom Peters, Dean of Libraries, who worked with John Bisney on arranging to have this outstanding collection digitized, noted:
"This is an extremely important collection. To date, the Ozark Jubilee has been the most impressive musical and entertainment development in the multi-state Ozarks Region. The University thanks Bryan and John Bisney, father and son, for compiling and saving this collection. It provides amazing details and context for the related project of the MSU Libraries to digitize rare kinescopes of the Ozark Jubilee. This collection is a "Jewell" in the crown of MSU's ongoing efforts to collect, preserve, and provide access to the history, culture, society, ecology, and folk life of the Ozarks."
A finding aid to the collection is available online, and users may contact Special Collections and Archives at Archives@missouristate.edu with questions about the collection.