New Touchless Towel Dispensers
New Touchless Towel Dispensers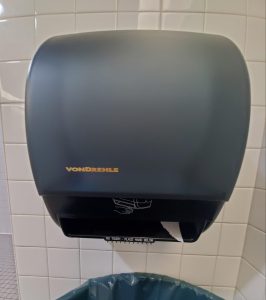 In order to make Meyer Library a safer, more hygienic, and more environmentally responsible place, during this pandemic and beyond, new touchless paper towel dispensers are being installed in all the public restrooms in the building. Melissa Eiken, Executive Assistant II for the MSU Libraries, is coordinating this effort, which will be completed soon. 
The new dispensers replace two older models:
Dispensers that required the manual depression of a lever: Known affectionately as the "one-armed bandits," because of their similarity to slot machines, they necessitated actually touching the dispenser to obtain a towel. They also were rather loud.


Dispensers that required manually pulling on the paper towel itself. When doing this with wet hands (after washing them for at least 20 seconds!), the user often had the paper towel shred, leading to user frustration, and unsightly wet paper trash on the restroom floor. 
As the MSU Libraries continues to explore and plan for complete restroom renovations in the coming years, we are reviewing and evaluating other hand-sanitizing and hand-drying options.