New Issue of OzarksWatch Magazine Coming Soon
New Issue of OzarksWatch Magazine Coming Soon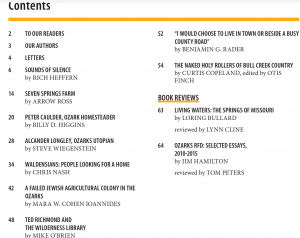 The fall 2020 issue of OzarksWatch Magazine is off to the printer. Because of COVID-19, the two issue of 2020 have been especially challenging to produce. Kudos to Susan Croce Kelly, Nathan Neuschwander, all the contributing authors, and to everyone who makes this magazine a joy to read. Subscribers, due to printing schedules, your copies will be mailed out in January.

This issue focuses on individuals and groups coming to the Ozarks Region seeking a better life, however they defined "a better life."

More information about OzarksWatch Magazine, including a link to subscribe (only $16 per year, what a deal), can be found here.