1990s "This Gay Life" Cable Access Show Now Online
1990s "This Gay Life" Cable Access Show Now Online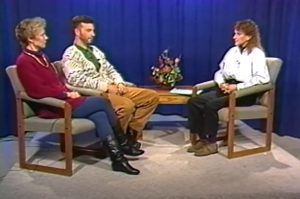 The Special Collections and Archives unit of the MSU Libraries is excited to make available 34 episodes of "This Gay Life" on the Libraries' dedicated YouTube channel.
"This Gay Life" aired weekly on cable access in 1994-1995 and focused on LGBTQ issues. The show was created and hosted by local entertainer and activist Cruz Devon, and featured topics such as local politics, gay parenting, community activism, and life in the LGBTQ community in Springfield and the surrounding areas.
Guests included local LGBTQ community leaders and activists and nationally known writers and entertainers. Unusual for its time and setting, the show offers a fascinating glimpse into LGBTQ life in southwest Missouri twenty-five years ago, and we hope it will prove valuable to researchers.
For more information, contact us at Archives@missouristate.edu or 417-836-5428.