New Furnishings for Second Level West
New Furnishings for Second Level West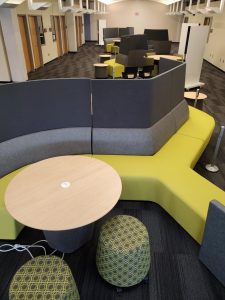 Earlier this week furniture installers from Scott-Rice unpacked and assembled most of the new furnishings for a major area on the west side of the Second Level of Duane G. Meyer Library on the Springfield campus of Missouri State University. 
This is another step in the massive multi-year project to completely redesign and refurbish the public areas of Duane G. Meyer Library. 
Once again the Space Committee of the MSU Libraries has done an excellent job of exploring how various public areas in and near the building can be redesigned to better meet the needs and expectations of library users, today and tomorrow.
Members of the Space Committee include: 
Jessica Bennett

Rachel Besara

Holly Kouns

Nathan Neuschwander

Tracy Stout

Tom Peters

Chelsea Morrow (MSU Planning, Design & Construction)

Cindy McDonnell (Scott Rice) (ex officio) 

Teresa Bradley (Scott Rice) (ex officio)

David Brite (Steelcase) (ex officio)